Philippines, 9 48267-2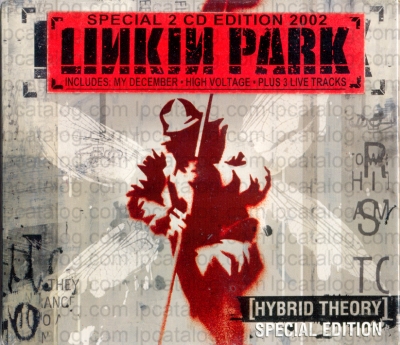 UPC:

093624826729

EAN:

0093624826729

Media:

2CD

Cat #:

9 48267-2

Released:

2002

Country:

Philippines

Added:

2012-08-14 09:55:43
Tracklist:
CD1:
Papercut
One Step Closer
With You
Points Of Authority
Crawling
Runaway
By Myself
In The End
A Place For My Head
Forgotten
Cure For The Itch
Pushing Me Away
CD2:
Papercut (Live)
Points Of Authority (Live)
A Place For My Head (Live)
My December
High Voltage
Notes:
-Matrix contains "IFPI L101" and Mould SID Code "IFPI 2102" signifying a Philippine release by F.A.S. in Canumay, Philippines.
-Scans 3–7 by jason_a.
---
←
See also in "2000 Hybrid Theory":
→