Indonesia, 9 48267-4, Cassette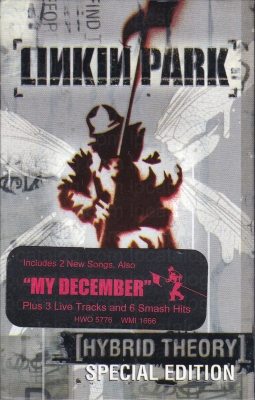 UPC:

093624826743

EAN:

0093624826743

Media:

Cassette

Cat #:

9 48267-4 / HWO 5776

Released:

2002

Country:

Indonesia

Added:

2013-03-28 16:16:04
Tracklist:
Side A
Papercut
One Step Closer
With You
Points of Authority
Crawling
Runaway
By Myself
In The End
A Place For My Head
Side B:
Forgotten
Cure For The Itch
Pushing Me Away
Papercut (Live)
Points Of Authority (Live)
A Place For My Head (Live)
My December
High Voltage
Notes:
-Cassette has "Manufactured and distributed by PT Warner Music Indonesia" written on the insert, under the barcode, signifying an Indonesian release.
-Comes with a slipcase.
-Scans by Schmocta.
---
←
See also in "2000 Hybrid Theory":
→