News
---
001 917 730 3735
2023-01-23
25jan_Introduction
26jan_Somewhere I Belong
27jan_Faint
28jan_Numb
29jan_From The Inside
30jan_Breaking The Habit
---
Warner Bros. Records is now Warner Records. Why?
2020-11-06
There have been questions asked for some time now, because apparently, all Linkin Park albums have been reissued again. Yes! Starting from Hybrid Theory, through Living Things and ending on the most recent live release - One More Light Live, all have been reissued, all with a new catalog number BUT the same EAN (UPC) or simply barcode as the last issues. Want to know why?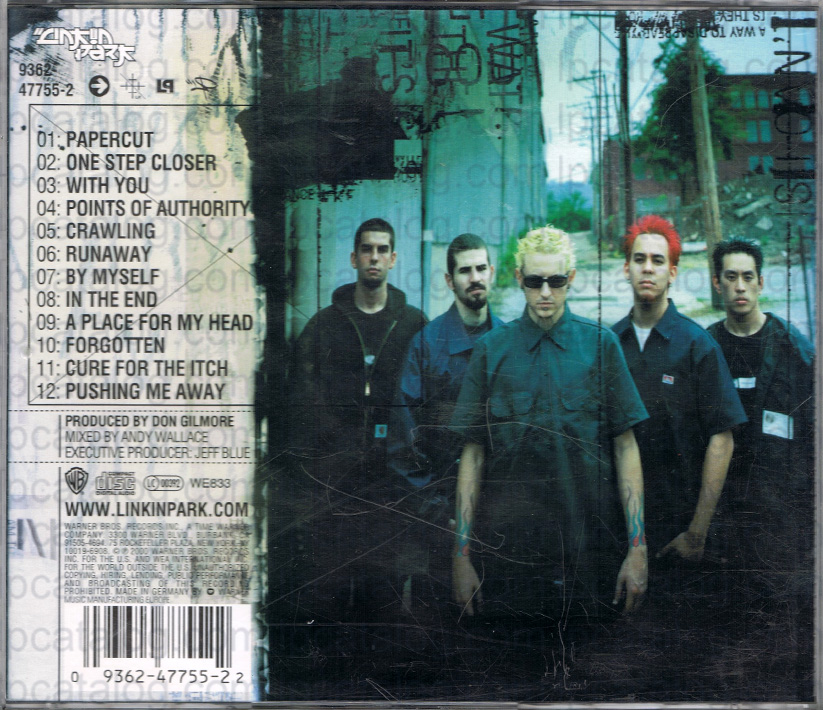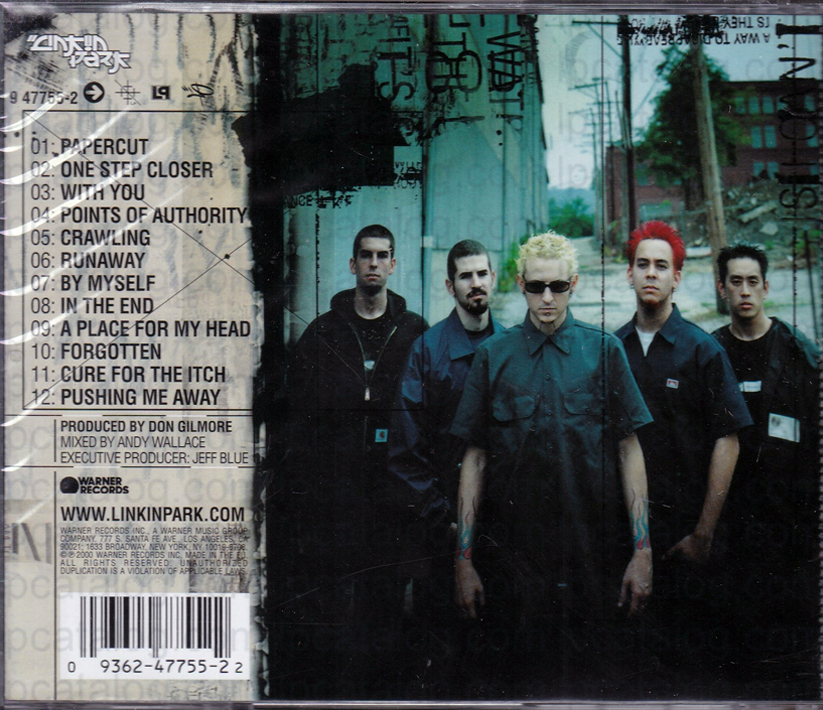 The answer is simple (well, kind of) - because of both legal and imaging reasons. Back in 2004 when Warner Music Group was sold by Time Warner to investors with Edgar Bronfman Jr., as the leader, the agreement was that Warner Bros. Records (founded in 1958, a Warner Bros. Pictures division) would be still using the Warner Bros. name and logo for the next 15 years. After that period of time things have changed for the company, and the time has come to change both logo and name (again, this was mostly for legal reasons, I suppose we don't have to get into details here, right?) Some people say this is a fresh start. It sure is, mostly for the leadership.
List of reissued albums as of November 02, 2020:
Hybrid Theory
CD: Germany, 093624775522
Vinyl: Germany, 093624941422

Reanimation
CD: Germany, 093624832621, Jewel Case
CD: Germany, 093624832621, Digipack

Meteora
CD: Germany, 093624844426
Vinyl: Germany, 9362491595

Minutes To Midnight
CD: European Union, 093624447726
Vinyl: Germany, 093624998105

Minutes To Midnight Tour Edition
CD: Germany, 093624989349

A Thousand Suns
CD: Germany, 093624963332

Road To Revolution
CD/DVD: Germany, 093624980957

Living Things
CD: Germany, 093624950486
Vinyl: To be added

Recharged
CD: Germany, 093624941606

The Hunting Party
CD: European Union, 093624937593

One More Light
CD: Germany, 093624913238
Vinyl: Germany, 559687-1

One More Light Live
CD: Germany, 0093624907923

Changes to the previous releases: new Warner Records logo, new catalog number, Warner website address has changed from "warnerbrosrecords.com" to "warnerrecords.com". Label Code "LC 00392" has been removed from the credits.

If anyone knows any other releases that have been reissued and have the new logo please let us know!
UPDATE NOVEMBER 07 ASTAT via LPLive added that :
It's also been reported that these releases use the newer masters from 2013 for all of the pre-Living Things albums (from when they did the iTunes remasters), which would presumably mean all new physical pressings of Minutes to Midnight have the alternate (wrong) version of Shadow of the Day on them. I'll try to confirm this, but if so that would pretty much mean the original version of the song is "out of print" at this point.
As soon as we get some further info on this everything will be added to this post and to corresponding releases.
---
2020-11-27 Meteora RSD Black Friday Aqua Blue !POSTPONED!
2020-11-05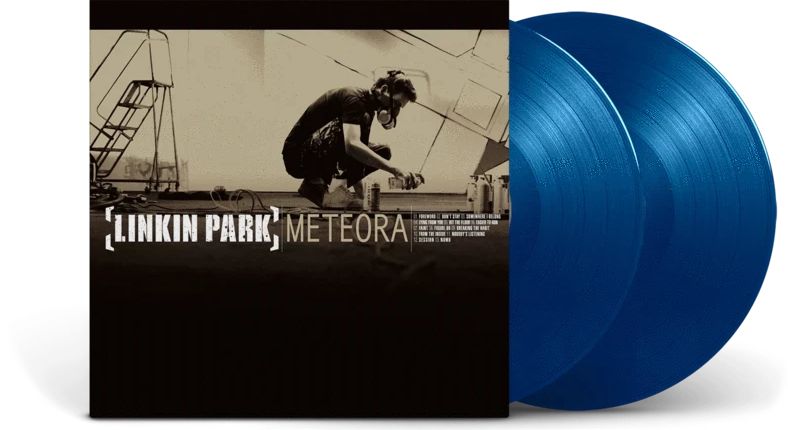 UPDATE November 05, 2020
This release has been postponed to spring 2021 (and that's Record Store Day in April) That's all folks for today.
We're waiting for any further comment from Warner officials since this is something that doesn't happen very often, especially on a RSD release...
This year for the Record Store Day Black Friday we'll get a cool set of two LP's in a limited, aqua blue pressing. This item is limited to 3000 pieces worldwide!

Release date: November 27, 2020 TBD Spring 2021 (Probably Record Store Day in April)
EAN: 0093624892113
Catalog #: 9362489211
Retail price: €36,95 TBD
Tracklist:
Record 1/Side One
Foreword
Don't Stay
Somewhere I Belong
Lying From You
Record 1/Side Two
Hit The Floor
Easier To Run
Faint
Record 2/Side One
Figure.09
Breaking The Habit
From The Inside
Record 2/Side Two
Nobody's Listening
Session
Numb
---
Funko Pop! Albums: Linkin Park - Hybrid Theory Pre-Orders!
2020-10-28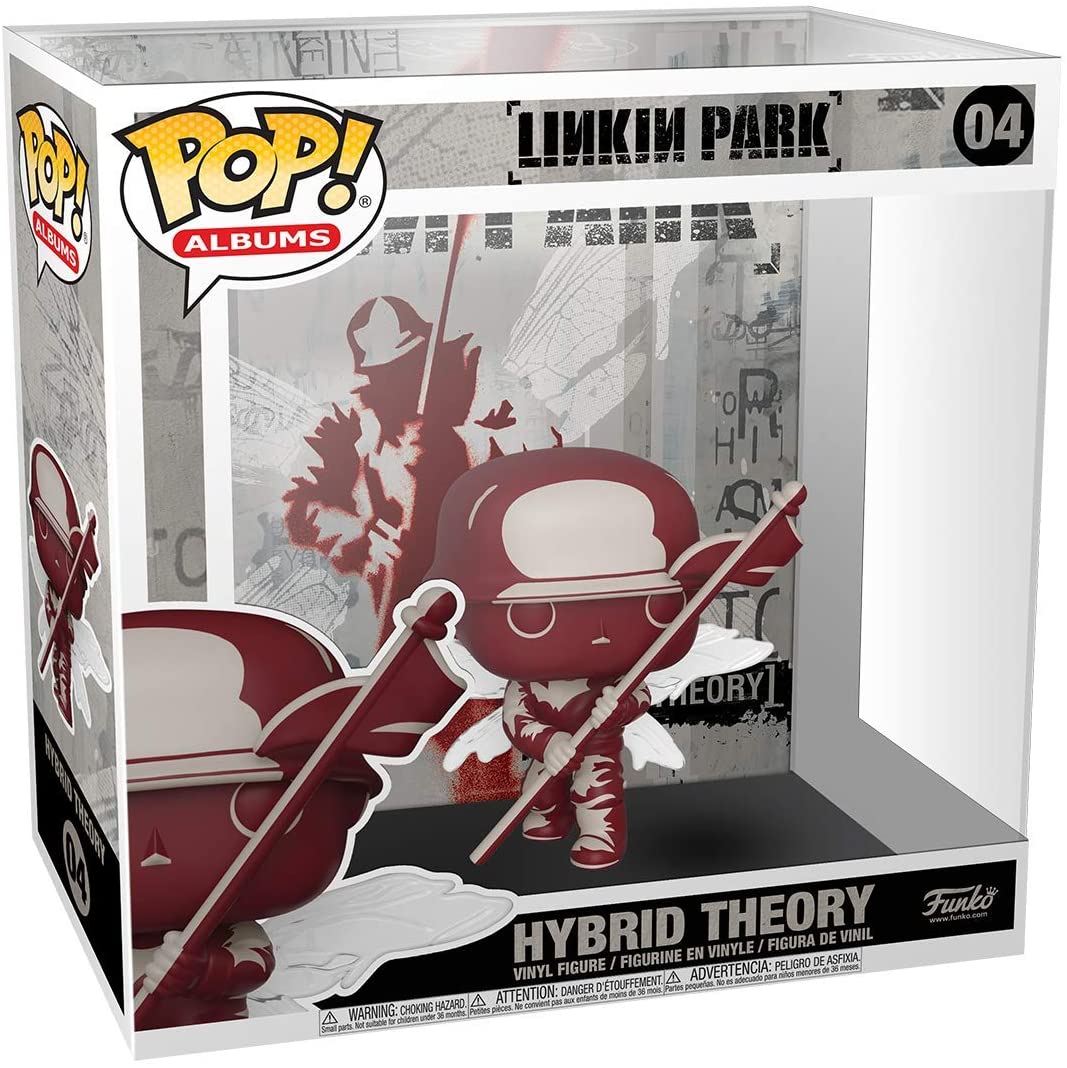 As of today Funko Pop! Albums: Linkin Park - Hybrid Theory Street Soldier is available to pre-order:
LP Store (SOLD OUT)
Walmart (SOLD OUT)
"Celebrate the 20 Year Anniversary of the Hybrid Theory album by showcasing this new Funko Pop! Album center stage of your music collection. Item comes with a Pop! and record artwork packaged together in a protective case. Vinyl figure is approximately 3.25-inches tall, album in case is approximately 9.15-inches tall."
This however will be released on January 25th, 2021!
---
Hybrid Theory 20th Anniversary Deluxe Boxset Errors
2020-10-10
It looks like the deluxe boxset in the European Union has several errors listed below:
- no pulltabs
- The Fillmore 2001 and Rock Am Ring 2001 shows are in the Frat Party At The Pankake Festival disc while the Frat Party At The Pankake Festival content is in the The Filmore 2001 / Rock Am Ring 2001 disc. Video proof
- Also what supposed to be Frat Party Disc but there are two shows, the menu on standalone dvd player doesn't work.
- Mike's lithograph is pixelated.
- Unlaminated AAA pass.
- "Hurry" and "Chair" are incomplete in every CD of LPU Rarities (both US and EU). They're cut to 30 seconds each.
- There are errors in the credits of every pressing of the Hybrid Theory EP vinyl. Mike Shinoda isn't credited for producing and mixing "Technique (Short)"; instead, he is credited for "And One" twice. Phoenix is credited for writing "Carousel" and "Technique" despite him not being in the band at the time these songs were created.
- In the credits of B-Side Rarities, it is written that "Papercut (Live At Docklands Arena, London)" was taken from the "In The End" single, but it's actually taken from the "Papercut" single.
- In the Forgotten Demos tracklist, the last two letters of "Points Of Authority" and the final letter of "Crawling" are written in regular font instead of bold.
UPDATE
As of October 23, anyone who has purchased EU deluxe boxset can contact Warner and expect further info about possible item replacements!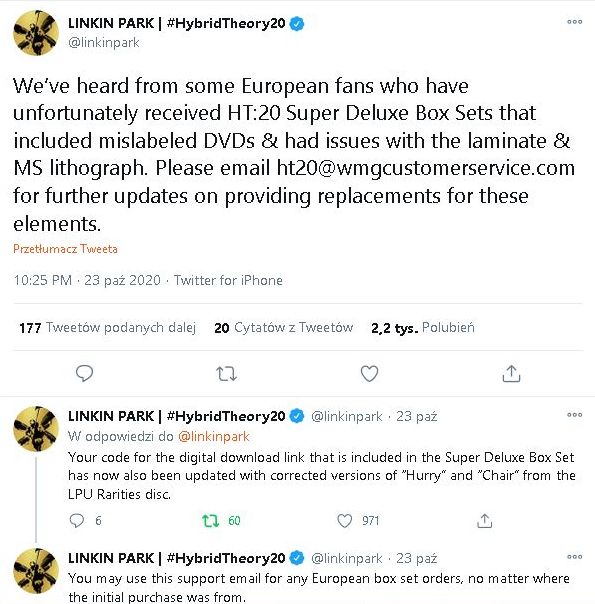 ---