#3 LPCatalog Exclusives Part 1
---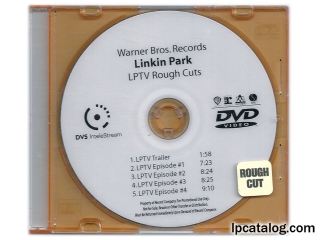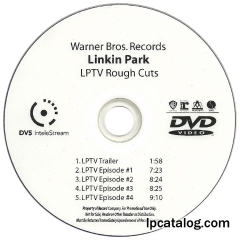 We are proud to present a few exclusives to celebrate the 3rd year of lpcatalog online!
First up are four LPTV episodes from 2003, released by LP in early 2007 in order to promote the new album Minutes To Midnight.
That's right, they began with the LPU Tour footage followed by Projekt Revolution '03, then Summer Sanitarium. Next, episode 4 named Europe '03 and then Australia and Asia footage.
After that was a Meteora episode, Australia and Asia 2003 Tour, European and Asian Tour 2004. Lastly episode number 9 named Laurel House, which was the first episode where making of the new album stuff appeared.
Up for grabs are the first four episodes of LPTV. What's different?
Well they are "rough cut" videos which means that very little editing has been done in order to
preview Mark Fiore's work and then write down what to leave and what to remove and/or edit.
There are some differences, compared to the regular LPTV episodes which were shared to the public on
LP's youtube channel and then released via iTunes to purchase, with extended length. List as follows:
LPTV Episode 1: Original 7:08, Rough Cut 7:22 Download .VOB 397mb
LPTV Episode 2: Original 7:56, Rough Cut 8:20 New footage Download .VOB 464mb
LPTV Episode 3: Original 7:58, Rough Cut 8:25 Extended live footage, altered footage order Download .VOB 460mb
LPTV Episode 4: Original 8:29, Rough Cut 9:10 Extended footage Download .VOB 572mb
LPTV Episode Trailer Version 1 12.12.2006 TRT 1.58 Rough Cut Download .VOB 119mb
The main difference is the background audio in the beginning of each episode: Figure.09 instead of QWERTY ,
also some scenes are cut, some are extended, some effects are there and some are not, compared to
the iTunes releases. Also, Mike's commentary is not present in the rough cuts, particularly on episode 1!
Last but not least, remember that this is just the beginning of our exclusive downloads, expect another quality release on Sunday, April 26!
UPDATE 04/25
Due to high demand we have decided to upload two next episodes which are from a different promo: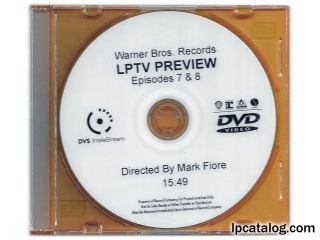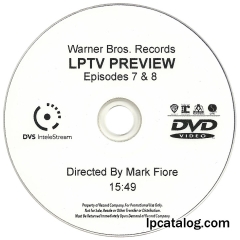 These have QWERTY as the background audio in the beginning. Also there are some cool scenes that we haven't seen before, i.e. Baby Got Back "cover" during Donnington Festival in episode 7!
LPTV Episode 7: Original 7:15, Rough Cut 7:30 Extended footage Download .VOB 420mb
LPTV Episode 8: Original 8:11, Rough Cut 8:16 Extended footage Download .VOB 462mb