Interview Month: Collectors Interview #3: Yuri
Interview Month: Collectors Interview #3: Yuri
---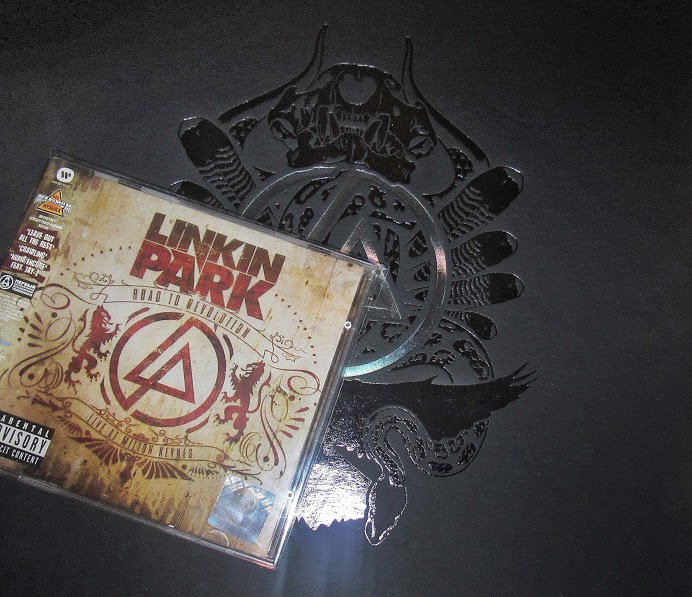 Third collector in our interview month is our friend and long-time contributor Yuri known by his nickname Nemesis from Moscow, Russia.
1. First question is the most common question in LP fanbase: the beginning. What or who got You into Linkin Park? Was it a video you saw or a friend who gave You a copy of LP's Hybrid Theory? That brings the 1A question: What was the first item related to LP you've purchased?
Actually, before LP I wasn't interested in music at all, I didn't care at all, although my classmates shared LP's songs in mp3 via bluetooth. First time I saw one of their music videos at MTV (I can't remember, which one – was it Numb or What I've Done). Since that moment I've created a folder on my PC, in which I began to download the songs I liked. First it was about 20 songs, and 12-14 of them was LP's songs. Later my mom bought a pirated CD "mp3 collection" (which even had LPU 2.5 and Grey Daze songs as bonus tracks). During the next couple of years I met a lot of fans, and one of them was a collector. When I saw his collection, I began to want to have at least 1 LP item. At that moment I didn't thought that later all the shelves in my room (and partially in other rooms) will be full of different versions of albums and singles. Actually, the first item I bought is A Thousand Suns Deluxe Edition, which I ordered with the help of that friend, whose collection inspired me. But while it wasn't shipped yet, I went to the store and saw (and bought) Russian issue of Road To Revolution, so it also could be named as my first item. Later I started to visit local music stores and to buy Russian CDs, and that friend helped me to order those CDs that wasn't released in Russia. In 2011 I attended Linkin Park concert, which was the first concert in my life. That was the Transformers premiere show at the Red Square. I think, that this was the moment that changed my life. Since then I found dozens of friends and hundreds of LP fans with whom I am familiar from all over the world. My current hobbies emerged through LP's music. For example, I began to draw when I tried to copy the artwork from Breaking The Habit DVD.
2. What is the most valuable item you currently have?
I think, the most valuable item in my collection, and also the most precious for me personally, is LPU 9 vinyl. I bought it right before LPUX launched, LPU9 items were discounted. Later, in 2012, when I was on LPU M&G at Maxidrom Festival, I got that vinyl signed (and that was my first signed item). Also among the most valuable items I can mention Linkin Park Soundwave Transformer and Welcome vinyl. Their cost was about the same, but, due to our local currency rate change, I paid for the vinyl about twice more than for the Transformer. About the transformer… When I heard that LP will release a Transformer toy, I started to want it. I liked such toys since I was a little kid. Even though now it's on sale even cheaper, I bought it in SURU just when it was released. Now it stands on a shelf with WWRp BRAMBLE MK2 GATLING, Gundam, Mr. Hahn Ningyo and Nendoroids, and it looks like a little army, hah. Now about the vinyl… Mike's idea about the art-wall made of vinyl covers seemed really interesting to me. To have a part of such wall at home and to know that the other parts are all over the world now – it's a nice feeling.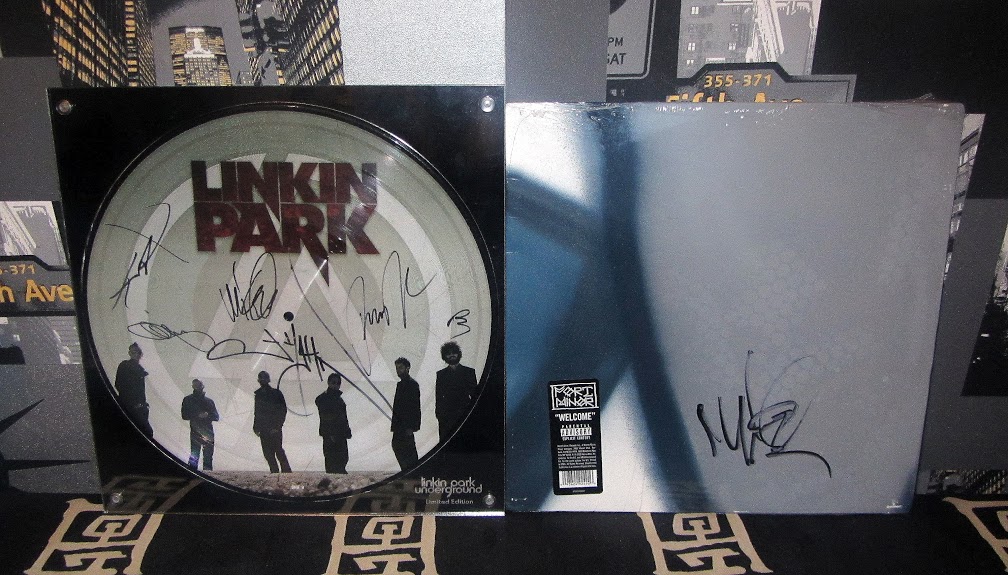 3. What, in your opinion, is the so called holy grail of LP collectors? HT EP 1999? SDaHF Cassette? Or maybe some limited signed item? Please explain why?
I think, the Holy Grain for the collector is something that he wants more than anything else. For myself, I'd call HT EP 1999, even though there's quite a lot of them in the world. But unfortunately, I haven't seen them on sale. Or, for example, some kind of artwork by Mike, made by himself, as a big painting, I mean the original one, not a reprint.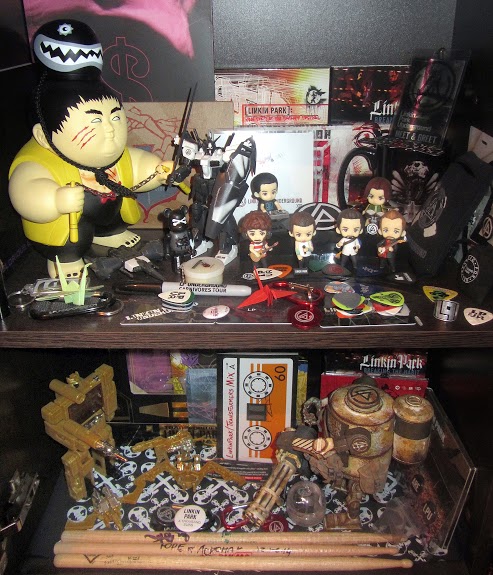 4. Roughly, how much do you spend on LP per year? Few people have already asked here and there, and they would like to know how do you run your budget just to afford some old and some new stuff (when a new album drops in example) along with regular life (hah)?
It's hard to answer that question. I haven't ever counted how much I spend per year, but this year, I guess, it'll be around $2000. It includes around $600 spent on concerts. Before this year, I used to spend less, but due the RUB course's fall, the prices rose almost twice. When I started to collect, my goal was to collect all the albums and singles. Then I found the Discogs online store, and focused on collecting the vinyl releases. During the last two years I've received so much packages that I can say, I visit the post office more often than food market. For this time, my collection has grown more than twice. One of the biggest additions was made by buying the whole collection from the guy who put all of his items on sale. I remember one of the packages had almost 40 CDs in it. The average price is 3-4 USD per CD. Usually I'm doing my best to buy them at the lowest price, for that I'm stalking the sales of few stores at once, including eBay. Also now I'm shopping together with my fellow collectors to split the shipping cost.
5. Based on Your current collection, is there any item (apart from the holy grail list) You wanted to get but still didn't due to any reasons?
There's a lot of such things. I still don't have anything from previous bands in my collection. Most wanted of them is Grey Daze CDs. I see them on sale often, but every time I'm missing the opportunity to buy them. Also, I really LOVE guitar picks. I've caught my first pick at my first show, at Red Square. Now I have 35 picks, plus the picks form the LPU packages. Even Julien-K and Dead by Sunrise picks are in my collection. Sadly, I still don't have Minutes to Midnight pick with the picture of Brad. I saw it on sale twice, but the price was really too high. And also I really like the Japanese editions of CDs. Among them, I'd like to buy We Made It and LOATR singles and Breaking the Habit promo CD+DVD. An interesting observation: sometimes sellers from Japan are putting candies or souvenirs to the packages. For example, last time, with Frat Party DVD, I've got an origami crane. That's so cute.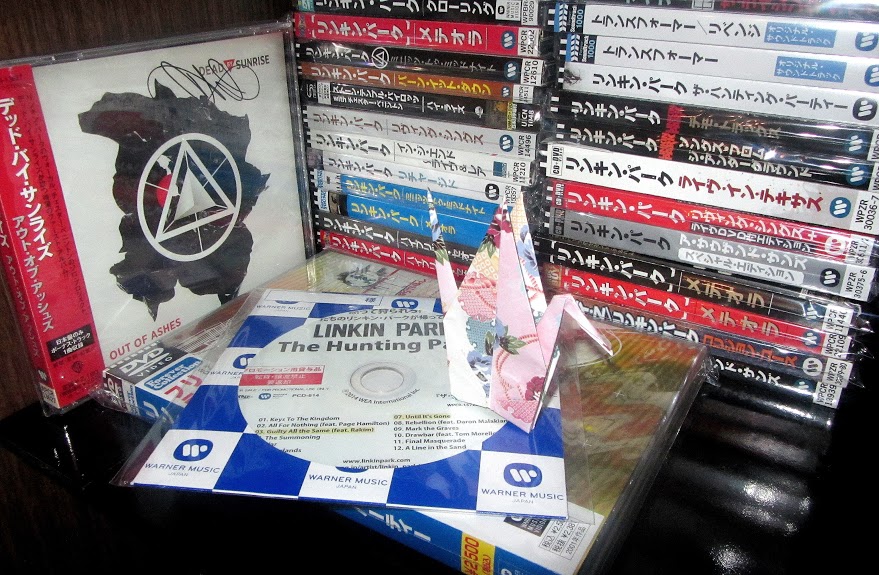 6. After so many years of collecting, is there anything You'd like LP to release more often or from time to time? In example different single versions, CD+DVD albums WITH making of? Live releases? Or maybe limited editions?
I really like the different versions of singles. Not so long ago, singles had the CD, vinyl and cassette releases, and some of them had different versions. I'd like to see small vinyl singles again, like in MTM era. It'd be nice to see a movie about the making process of every album. I really liked that movies about Meteora & MTM, and I'd like to watch something like that. Also I really like all the collaborations of LP and toy-making companies (like Good Smile Company and Hasbro). It'd be great if they'd release more of such interesting things. But, honestly, I also love the "calm" periods, between the album releases, when I can concentrate on collecting some old stuff which I don't have yet.
7. Another common question: how many concerts have you been to? Which one is Your favourite so far? Why?
By now, I attended 8 Linkin Part shows:

Moscow, 2011.06.23, Red Square;
Moscow, 2012.06.10, Maxidrom Festival;
Saint-Petersburg, 2012.06.14, SKK Peterburg;
Saint-Petersburg, 2014.06.01, Petrovsky Stadium;
Moscow, 2014.06.02, SK Olimpiyskiy;
Minsk, 2015.08.27, Minsk-Arena;
Moscow, 2015.08.29, SK Olimpiyskiy;
Jämsä, 2015.08.31, Himos Park.

My favorite show is the concert on Red Square, at the center of my hometown and my homeland. That's the show where the famous "Wisdom, Justice and Love" flashmob took place. To attend the concert, I had to win the pass from the radio. There was a lot of contests, and one of them was about getting to the car, where you can take the pass, It's location was said on the radio. Me and my friends spent a whole week in the chase for that car, and finally we caught it. Later, LPU also gave an opportunity to go to that show. I had great impressions and found a lot of new friends, caught my first guitar pick, and it all was for free. Since that moment I began to attend a lot of big (and not so big) shows in Moscow. By now, I've been on more than 200 concerts. This year I've traveled to a show outside my country for the first time (and actually visited another country for the first time). I've visited Minsk, Belarus and Jämsä, Finland. I've met some nice people there, got few guitar picks (thanks to Lorenzo). Also I was selected for the LPU M&G in Jämsä and signed Somewhere I Belong vinyl, Glorious Excess (Born) art book and DBS's Fire Japanese promo CD. That was my third meeting with LP. I really hope to visit some more interesting places. Especially, I have a dream to visit Japan someday, and to attend a Linkin Park show there would be marvelous.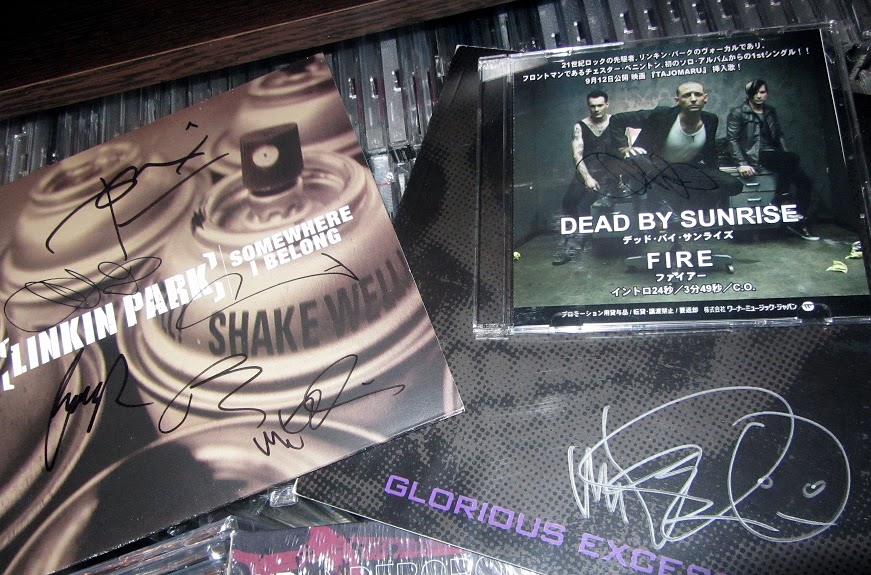 8. Last but not least, what can You tell to people just starting their collections? Any hints for beginners?
As Curt and Brennan already said, of course, it's patience. You shouldn't compare yourselves to other collectors and be jealous. If you'd like, someday you'll have a big collection too. Also, I think, collecting is not a competition, so you should get acquainted with other collectors from all over the world. It could help both to you and to others to develop your collections and to get some things cheaper.
About a month ago I had an anniversary – exactly 5 years since I began to collect. During those years, I've met a lot of collectors from all over the world, and some of them helped (and still are helping) me to add new items to my collection. I hope, I'll continue to get acquainted with new interesting people through this hobby.